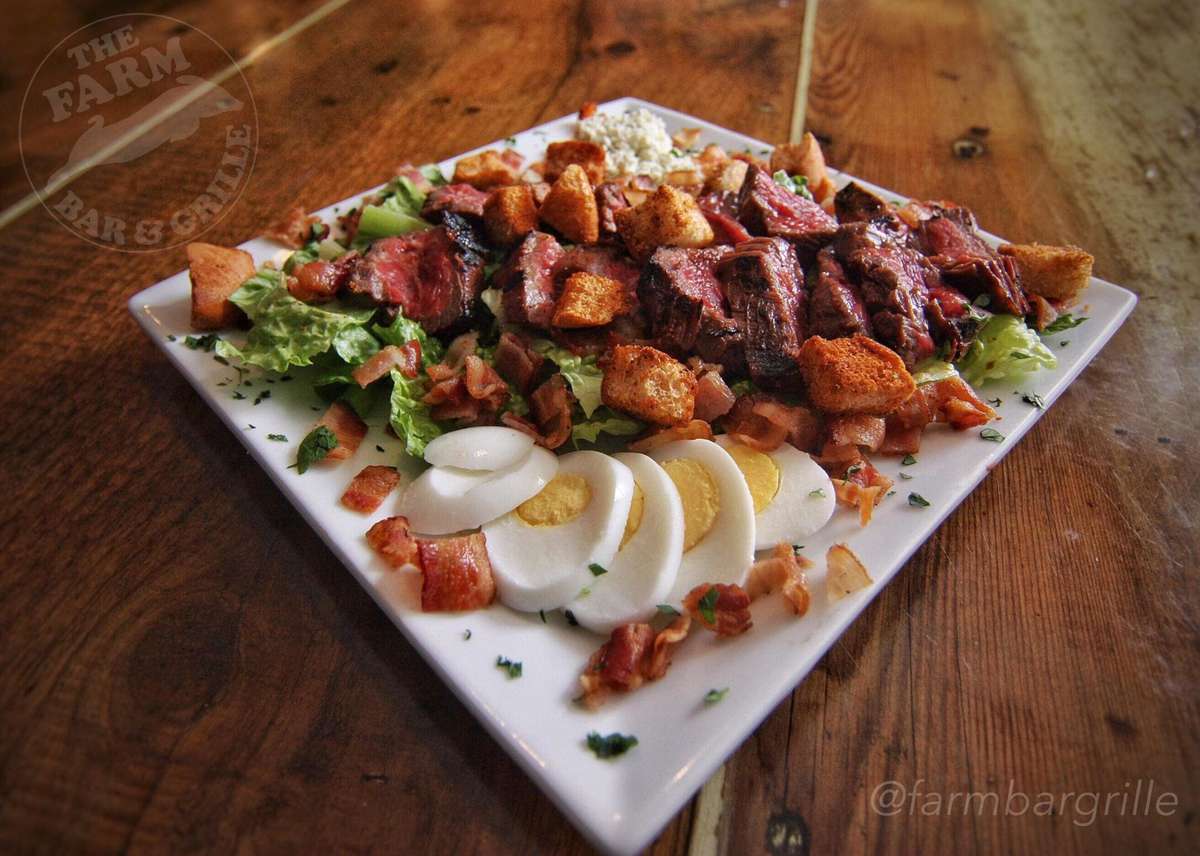 Drinks
Become a VIP
Receive updates on special events, new menu items, menu reviews, and more!
Drinks
Draft Beer
WE LOVE BEER
Here at the farm... Which is why we have an additional 5 rotating lines going. Ask your server! Keeping things fresh, exciting and well... Hoppy!
Angry Orchard 5.00
Bud Light 3.75
Dogfish Head 60 Minute IPA 6.00

Blue Moon Belgian Ale $5.50

Shed Mountain Brown Ale $6.00

Lagunitas Seasonal $7.00
Guinness (20oz) 6.00
Harpoon IPA 5.00
Farm's Pale Ale 5.00
Matilda Red Rage Ale North Conway, NH 5.50
Samuel Adams Seasonal 5.00
Seadog Blueberry 4.50
Shipyard Seasonal 5.00
Stella Artois Pale Lager 5.00
Maine Brewing Co. Seasonal 7.50
Stoneface IPA Newington, NH 7.00
Bottles & Cans
Budweiser 3.75
Bud Light 3.75
Coors Light 3.75
Corona Extra 4.50
Estrella D.D. (Gluten-Free) 4.50
Heineken 4.00
Michelob Ultra 3.75
Miller Lite 3.75
Narragansett (16oz Can) 3.00
O'Doul's N/A 4.00
PBR (16oz Can) 3.00
Ask your server about our seasonal bottle beers as well!
House Wines
Tunnel Of Elms $7 Glass - Cabernet Sauvignon, Chardonnay,
Merlot, Pinot Grigio Beringer $7 Glass - White Zinfandel
White Wine
Oyster Bay Sauvignon Blanc 9 / 32
Crisp, elegant & refreshing with tropical & gooseberry flavors.
Seaglass Riesling 8 / 26
Exotic floral aromas with honey-drenched apricots & peaches.
Hob Nob Chardonnay 8 / 26
A pleasant blend of rich almond, hazelnut & honey aromas.

Gabbiano Pinot Grigio 8/30
(citrus flavors on the palate delivering complex flavours of green apple, orange and hints of lemon)

Cline Farmhouse White 8/30
(a crisp, bright white wine with notes of grapefruit, lime and peach)
Red Wine
Hob Nob Pinot Noir 8 / 26
Medium-bodied with soft tannings & a smooth, rich texture.
Bogle Merlot 8 / 26
Bright cherry & dried herbs on the nose with a round finish.
The Show Cabernet Sauvignon 9 / 30
Aromas of cassis, toasty oak, sweet fruit & rich chocolate.
Ruta 22 Malbec 8 / 30
Rich, smooth blackberry flavors & vanilla aromas.

Cline Farmhouse Red 8/30
(this juicy red is full-bodied with flavors of dark berries and black pepper)

Los Cardos Malbec 8/30
(red berries and plum, intermixed with notes of spice)

Josh Cellars Cabernet Sauvignon 9/34
9dark cherryy and ripe plum with a hint of vanilla and cocoa)